Massage & Bespoke Body Treatments
Wonderfully relaxing treatments… designed to restore body and mind. Using Eve Taylor's natural aromatherapy products, we have luxurious massage and body treatments tailored for your relaxation or stimulation.
Swedish Therapeutic Body Massage
Aching muscles & fatigued body? Your professional Therapist will skilfully ease away tensions & stress whilst improving blood circulation & enhancing skin glow. Each massage treatment is designed to individually suit your needs.
Full Body: 60 mins £52.00 – 75 mins £57.00
Back Neck & Shoulder: 30 mins £37.00
Aromatherapy Body Massage (pre blended oils)
Aromatherapy massage helps to relieve stress and tension from tired muscles, using a blend of aromatherapy oils to massage. You will be re-balanced and revitalised following your massage treatment.
Full Body: 60 mins £60.00 – 75 mins £65.00
Back Neck & Shoulder: 30 mins £48.00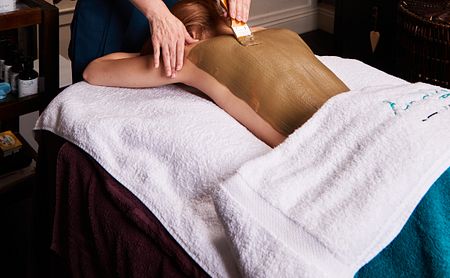 Hot Candle Back Massage
Your treatment will begin with gentle body brushing the massage candle melts into a warm sumptuous massage oil. This warm oil of natural butters can then be drizzled over the skin for a wonderful massage treatment to melt away tension and delicately nourish skin, you will leave you feeling Relaxed, Rejuvenated and Renewed.
45 mins £48.00
Beauty Rooms Head, Scalp & Neck Massage
A relaxing bespoke massage to help relieve stress in the back, neck, shoulders, scalp and face. Helping improve concentration and fatigue. Selecting treatment oils to male this treatment individual to your needs. Leaving you with a feeling of relaxation and well being
30 mins: £40.00
Skin Smoothing Salt Scrub
Our finely ground sea salt infused with essential oils of jasmine and ylang ylang soothe the senses while the dull, dry skin cells are buffed away. Skin drenching moisturisers conclude the treatment leaving skin feeling soft, smooth and hydrated.
Full Body Exfoliation (45 mins): £48.00
Back Exfoliation (30 mins): £35.00
Purifying Back Treatment
Using purifying essential oils to deep cleanse and unclog the skin this treatment targets a problematic back area. Zones in on breakouts to help clear blemishes with powerful fruit acids while our detoxifying seaweed mask deep cleanses and re-mineralises the skin.
£49.00 (45 mins)
£59.00 with Hot Stone Massage
Anti-Stress Back Treatment
Drift away on an aromatic journey to a world of relaxation.
Hand blended essential oils give you the ultimate in relaxation. A thermal body mask helps to ease any discomfort and tension leaving your mind and body soothed and refreshed.
£49.00 (45 mins)
£59.00 with Hot Stone Massage